Save the date for your premier networking and learning opportunity within New York State! July 17-19, 2019 at Embassy Suites Downtown Buffalo, NY!
Right in the heart of downtown (nearby restaurants, bars, coffee shops and a chocolate shop
Near the free shuttle to the waterfront!
Where we've negotiated special room rates at an unbeatable rate
Including cook to order breakfast and free valet parking!
Every room is a suite!
We even secured an outdoor garden terrace for our cocktail reception
It's so cool, you won't want to miss it
Check out the attached "11 Things About Buffalo"
And this short video to get you excited: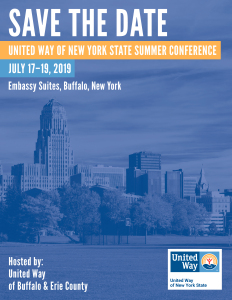 Not to Mention THE PROGRAM the committee is building
UWW is working on securing speakers for us
More and enhanced peer networking opportunities (we heard you… and we're ramping it up even more!)
There will be workshops on resource development, community impact and initiatives, governance, the Census 2020, digital fund raising and marketing, strong advocacy, cyber crime trends and protection, updates coming for ALICE 2020, 211 Innovations and MORE!
If you have a cool topic, idea or are willing to present- please fill out the attached form and return by April 12th!
OK- You're IN, and now you're deciding how many board members and staff people you can afford to send:
We work hard to serve you…. And we're keeping the price low!
Flex credit approval has been requested
Hotel rate is an unheard of $135/night for a full suite in downtown during peak season
That includes hot breakfast and FREE valet parking!
Conference Rate is just $315 per person
You can't afford NOT to come and bring your staff!
Registration Opens Soon. Stay tuned for that email!
Our sponsors:
To keep our state association robust, and bring you an increasingly valuable event, our sponsorship goal is $15,000
This is the only opportunity we have to secure sponsors, and provide them incredible value, at this time
If you know of a company that might like statewide reach- the sponsorship form is attached. Please help me reach our goal!
This is a for-profit company's chance to get in front of hundreds of local United Ways… and right now, it's their only chance through our office….. don't let your friends and allies miss out on this great opportunity!
FAMILY WIZE is BACK! They are our longest running sponsor and first confirmed for 2019. Kudos.
We look forward to seeing you in Buffalo on July 17-19th!